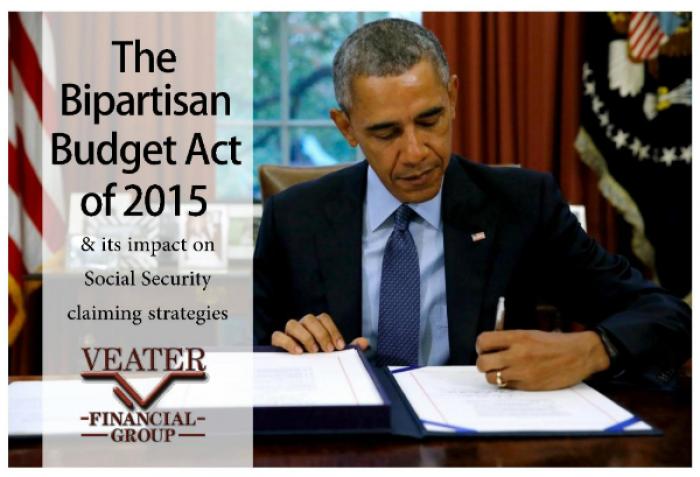 At the end of last year, President Obama signed into law the Bipartisan Budget Act of 2015.  This legislation was needed to avoid an impending default on U.S. debt as it raises the federal debt limit and establishes a framework for a two-year budget deal. It also contains multiple unrelated provisions, including an elimination of two Social Security retirement benefit claiming strategies. We want to go over these details to make sure that everyone is aware of the impact it may have on those who are planning on filing for benefits in the future.  These two popular techniques are known as "File and Suspend" and "Restricted Application."
File and Suspend

This strategy allows a spouse, who has reached full retirement age, to file for retirement benefits and then suspend them so that they continue to earn delayed retirement credits. The principal purpose for filing and suspending was to allow the other spouse to claim spousal benefits.
In a provision labeled "closure of unintended loopholes," the legislation effectively eliminates this strategy--if an individual chooses to suspend retirement benefits, neither the individual nor his or her spouse can receive spousal benefits during the suspension period. This provision will be effective starting in the end of April 2016 and applies to new file-and-suspend claims.
Those who are currently using this strategy, and those who employ it by end of April 2016 are unaffected by the legislation.
Those who file and suspend after the end of April 2016 will also have all auxiliary benefits suspended. The principal implication is that suspending one's retirement benefits will also cause a suspension of spousal or other dependent benefits.
Restricted Application
Another strategy that has been used to potentially increase retirement income involves one spouse filing for spousal benefits first, then switching to his or her own higher retirement benefit later. If a spouse reaches full retirement age and is eligible for both a spousal benefit based on his or her spouse's earnings record and a retirement benefit based on his or her own earnings record, he or she could choose to file a restricted application for spousal benefits only, then delay applying for retirement benefits on his or her own earnings record (up until age 70) in order to earn delayed retirement credits.
Like the "file-and-suspend option," the legislation eliminates this strategy. This strategy is presently employed by people who have reached their full retirement age and their spouse has already claimed a retirement benefit. They can claim a spousal benefit while letting their own retirement benefit continue to grow.
Under the proposed legislation, those born prior to 1954 can continue to use this strategy. Those born in 1954 or later will not be able to use this strategy. People in this category who claim a spousal benefit, even after they have reached their full retirement age, will be forced to also start their own retirement benefit.
So What Does this Mean for Me?
Properly planning for Social Security can make a huge difference in your retirement income. Sadly, it can also be very complex. What is right for one person may not be right for another. We are happy to provide any of our clients with what we call the "Social Security Roadmap." If you are planning on filing for social security in the next 5 years, please let us know and we can help you set up an appointment to go over your many social security options.
---
Written by Keebler and Associates for The Academy of Preferred Financial Advisors. @Keebler and Associates.  Used with permission.